SMP For Women Gallery
Thinning Hair

There are several reasons why women could begin losing their hair. Alopecia is an autoimmune condition that can cause hair loss all over the body, and often presents with hair falling out in chunks, leaving the patient with large bald spots all over his or her head.
Women are often under an immense amount of social pressure to look great, and one way many choose to accomplish this is to restrictively diet in order to lose those extra pounds. Unfortunately, if a diet doesn't provide the body with the nutrients it needs, one could end up shedding hair alongside weight.
Finally, hair loss is wrapped up in genetics, and just like men, certain women may be predisposed.
Why SMP for Women is an Important Procedure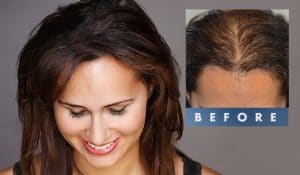 It may seem like there are few options for women who are losing their hair. After all, not every girl can pull off a short hairstyle. The situation is not so hopeless, however. Even if wigs, special shampoos, and surgeries haven't done the job, Scalp MicroPigmentation isn't short hair specific! Patients can choose how to fill out their visible scalp.